James (Jimmy) Stewart
It's A Wonderful Life
A great feel-good movie
With a short bio on Jimmy Stewart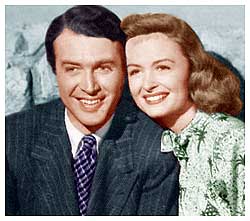 Jimmy Stewart and Donna Reed
James Maitland Stewart was born on May 20, 1908 in Indiana, Pennsylvania. He loved performing magic tricks as a child and started acting in student plays while attending Princeton University. He became friends with Henry Fonda and the two took off for New York where they landed some roles on Broadway. Jimmy then headed down to Hollywood where he signed a contract with MGM.
During the Second World War he joined the U.S. Military and saw action flying over Germany. He received several medals including the Distinguished Flying Cross and rose to the rank of Colonel.
After the war he resumed his acting career and went on to become one of the best loved actors of all time. He has been nominated for and won many awards including the Oscar for Best Actor.
Jimmy passed away on July 2, 1997
---
IT'S A WONDERFUL LIFE...1946
Director
Frank Capra
The Main Stars
James Stewart... George Bailey 
Donna Reed... Mary Hatch 
Lionel Barrymore... Mr. Potter 
Thomas Mitchell... Uncle Billy 
Henry Travers... Clarence 
Beulah Bondi... Mrs. Bailey 
Frank Faylen... Ernie 
Ward Bond... Bert 
It's Christmas Eve and poor old George Bailey is having a really bad day. Through no fault of his own his "Two Bit Bailey Building and Loan" has come up a few grand short just as a bank examiner is about to check the books. Looks like mabey he's going to jail. Not only that but his friends have moved away and become successful and his brother returned from the war a national hero while he was wasting away in Bedford Falls taking care of the family business. Geez, even when he stops into his favorite watering hole he gets punched in the mouth by the husband of one of his kid's teachers.
Feeling just a little suicidal, he goes to a bridge so he can jump into the cold frigid waters and end it all. But before he can jump, someone else hits the water and starts to scream for help causing George to dive in and come to the rescue.
It turns out that the poor old guy that he hauled out of the river is his wingless guardian angel who goes by the name of Clarence and is ranked in Heaven as Angel, Second Class. He has been sent down here to help George realize how good his life has actually been. If successful, Clarence can be elevated to Angel First Class and get his wings
"Just my luck, I get a second class angel" George says, "I wish I was never born"
Clarence grants him his wish and George walks through a very different landscape than he's been used to. The place is now called Potterville after the rich old miser that had been trying to buy up the whole town. It is a dark and sinister place with strip clubs and bars along the main street. George wanders around running into people who don't recognize him because he was never born. He goes to see his mother who now runs a boarding house but she thinks he's crazy. He then tracks down his wife who is now a spinster and she calls for the police.
Finally George realizes that he has had "A Wonderful Life" and things return to normal. He returns home to find his house full of friends and relatives who have gathered around to help him out. They all sing a Christmas carol and and a little bell on the Christmas tree rings. His daughter tells him that every time a bell rings an angel has just won their wings.
"It's a Wonderful Life" is a perennial TV Christmas movie. But we like to haul it sometime during the summer months too.
---

The Jimmy Stewart Filmography
Our Favorites Are Highlighted
 
"This Side of Heaven" (1934)
"Art Trouble" (1934)
"The Murder Man" (1935)
"After the Thin Man" (1936)
"Born to Dance" (1936)
"The Gorgeous Hussy" (1936)
"Important News" (1936)
"Next Time We Love" (1936)
"Rose Marie" (1936)
"Small Town Girl" (1936)
"Speed" (1936)
"Wife vs. Secretary" (1936)
"The Last Gangster" (1937)
"Navy Blue and Gold" (1937)
"Seventh Heaven" (1937)
"Of Human Hearts" (1938)
"The Shopworn Angel" (1938)
"Vivacious Lady" (1938)
"You Can't Take It With You" (1938) 
"Destry Rides Again" (1939)
"Ice Follies of 1939" (1939)
"It's a Wonderful World" (1939)
"Made for Each Other" (1939)
"Mr. Smith Goes to Washington" (1939) (Oscar nomination, best actor)
"The Mortal Storm" (1940)
"No Time for Comedy" (1940)
"The Philadelphia Story" (1940) (Oscar, best actor)
"Shop Around the Corner" (1940)
"Come Live with Me" (1941)
"Pot o' Gold" (1941)
"Ziegfeld Girl" (1941)
"It's a Wonderful Life" (1946) (Oscar nomination, best actor)
"Magic Town" (1947)
"Call Northside 777" (1948)
"On Our Merry Way" (1948)
"Rope" (1948)
"You Gotta Stay Happy" (1948)
"Malaya" (1949)
"Stratton Story" (1949)
"Broken Arrow" (1950)
"Harvey" (1950) (Oscar nomination, best actor)
"The Jackpot" (1950)
"Winchester '73" (1950)
"No Highway in the Sky" (1951)
"Bend of the River" (1952)
"Carbine Williams" (1952)
"The Greatest Show on Earth" (1952) 
"The Naked Spur" (1952)
"Thunder Bay" (1953)
"The Glenn Miller Story" (1954)
"Rear Window" (1954)
"The Far Country" (1955)
"The Man from Laramie" (1955)
"Strategic Air Command (1955)
"The Man Who Knew Too Much" (1956) 
"Night Passage" (1957)
"The Spirit of St. Louis" (1957)
"Bell, Book and Candle" (1958)
"Vertigo" (1958)
"Anatomy of a Murder" (1959) (Oscar nomination, best actor)
"The FBI Story" (1959)
"The Mountain Road" (1960)
"Two Rode Together" (1961)
"X-15" (1961) (narrator)
"Flashing Spikes" (1962)
"How the West Was Won" (1962)
"The Man Who Shot Liberty Valance" (1962)
"Mr. Hobbs Takes a Vacation" (1962) 
"Take Her, She's Mine" (1963)
"Cheyenne Autumn" (1964)
"Dear Brigitte (1965)
"The Flight of the Phoenix" (1965) 
"Shenandoah" (1965)
"The Rare Breed" (1966)
"Bandolero!" (1968)
"Firecreek" (1968)
"The Cheyenne Social Club" (1970) 
"The American West of John Ford" (1971)
"Fools' Parade" (1971)
"Harvey" (1972)
"Hawkins on Murder" (1973)
"That's Entertainment!" (1974)
"The Shootist" (1976)
"Airport '77" (1977)
"The Big Sleep" (1978)
"The Magic of Lassie" (1978)
"Mr. Krueger's Christmas" (1980)
"The Green Horizon" (1981)
"Right of Way" (1983)
"An American Tail: Fievel Goes West" (1991) (voice only)
This Jimmy Stewart site is for entertainment only
Picture colorized by Punchy