WELCOME TO NANA`S PLACE
Toronto Canada
Is This Page Taking Too Long To Load???
Then Click HERE For Nana's Text Only Index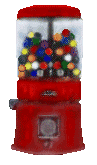 Hi there, I`m Nana, welcome to my little hunk of cyberspace. I hope you find it interesting. I've been married for a long time to a guy whose net nikname is Punchy and we live in Downtown Toronto. We have one son that we named Wayne who, along with his wife Cindy, has blessed us with three lovely grandchildren, all girls. And they are, as pictured below: Jessica, born 1993, Raquel, born 1990, and Samantha, born 1996. The name Nana was bestowed upon me by my them. Actually I was called Nana by the gumball machine because we have one. This was to keep them from confusing me with my mother who was known as Nana by the river because she lives on a large island in the middle of the Ottawa River.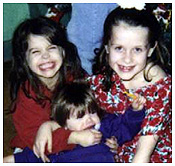 When I`m not busy with them or housework I have many other interests to keep me on the go. I do a lot of crafting, mostly the usual things such as sewing and making wreaths, but my favorite is stitching together small childsize dolls and dressing them in actual kids clothing. Sometimes they are so lifelike the can fool people into thinking they are real at first glance. Here's one here.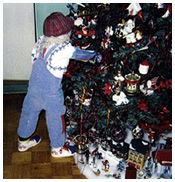 I`m also an avid collector of cow trinkets as are some of my friends. Anything that has something to do with cows will catch my eye. Cookie jars, plates, kitchen utensils, or anything else thats cow related. Drag me out of the store or it`s sold.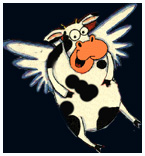 Another of my favorite pastimes is balcony gardening. I grow all kinds of vegetables and flowers out there during our short Canadian summers. My favorite veggies to grow are beefsteak tomatoes, pickling cucumbers, and green onions. On the flower side I love to plant portulaca, snapdragons, petunias, lobelia, fuchia, and of course impatiens. Some are in window boxes or hanging pots. I love to sit out there with my morning coffee and just breathe in the aroma coming off the plants.
Another of my interests is country music, mostly the stuff from the 50`s and 60`s. Hank Williams, Conway Twitty, Tammy wynette, and Patsy Cline are among my favs. I also like old rock and roll and new country. Below you will find some of my pages about the things I like.


Please, Before You Leave
Come Back And Sign My Guestbook
I'd Really Like To Hear From You

Here's two of my favorite actors



Here's some of my favorite country singers. Mostly from the 50's to the 70's. There are pictures of each and a few short biographies. I've still got a lot of work to do here, but this is a start.

Yum Yum, Our Favorite Snack, A Few Recipes


Did you ever buy an oldies CD just to get it home and find out that it's not the original recordings? Here's a few tips to avoid this in the future.

Take Some Time To
Check Out Our Other Sites
We have all kinds of old movie stuff there
And a lot of other interesting things too

Why not visit our family pages
That's our ancestor above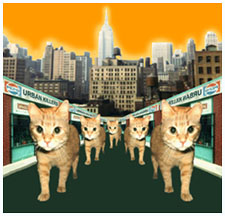 Beware. Our cat Lumpy is coming for you!
She's got her own scary movie site
Click on her picture to get there

Biography and Movie Reviews of our Favorite Bad Guy
And Colorized Pictures by Punchy

Over 100 reviews of those goofy
Sci-fi Movies from the Fifties
One of Punchy's passions
OR GO TO OUR MAIN INDEX


Well, that's it for now
There will be more coming soon

THE PURPOSE OF THIS SITE IS TO ENTERTAIN AND EDUCATE ONLY...
ALL COPYRIGHTS TO POSTERS ETC. ARE OWNED BY SOMEONE ELSE...
NO COMMERCIAL GAIN IS EXPECTED OR ACCEPTED...
ENJOY...