Patsy, Loretta, Conway, and Tammy

PATSY CLINE
PATSY CLINE WAS BORN ON SEPTEMBER 8, 1932...SHE CAME UP THROUGH THE TALENT CONTEST ROUTE, WINNING SEVERAL OF THEM BEFORE APPEARING ON ''THE ARTHUR GODFREY SHOW'' IN 1957... THIS WAS THE BREAK SHE NEEDED...SHE PERFORMED "WALKIN`AFTER MIDNIGHT" ON THE SHOW AND WAS SUCH A BLAST THAT SHE WAS SIGNED TO ''DECCA'' RECORDS... FROM THAT POINT ON, SHE NEVER LOOKED BACK...HIT FOLLOWED HIT AND SHE WAS SOON THE QUEEN OF THE OPRY...PATSY SURVIVED A VERY SERIOUS CAR CRASH ONLY TO BE KILLED IN A PLANE CRASH IN 1963...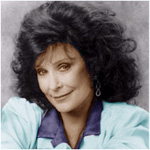 LORETTA LYNN
THE COAL MINER`S DAUGHTER WAS BORN IN BUTCHER HOLLOW, KENTUCKY, APRIL 14, 1935... SHE WAS MARRIED BY THE AGE OF 13 AND WAS A GRANDMOTHER BY THE AGE OF 32...SHE WAS A PROLIFIC SONGWRITER THAT WROTE MOSTLY ABOUT THE PROBLEMS OF WOMEN ON THE LOWER RUNG OF AMERICAN SOCIETY...CHEATING HUSBANDS WERE A MAINSTAY OF HER EARLY SONGS...SHE EVEN WROTE A SONG CALLED "THE PILL" ABOUT BIRTH CONTOL WIICH BLEW THE MINDS OF MIDDLE CLASS AMERICA...THESE THINGS WERE TALKED ABOUT IN HUSHED TONES ONLY...IF YOU WERE A WOMAN LIVING IN THE 60s AND 70's, THERE WERE NO OTHER SONGS ON THE RADIO...A VERY GOOD BIOGRAPHICAL MOVIE CALLED "COAL MINERS DAUGHTER" WAS RELEASED IN 1980 STARRING ''SISSY SPACEK''... THIS INTRODUCED HER TO A NEW GENERATION OF FANS...LORETTA IS STILL RECORDING AND APPEARING ON VARIOUS T.V. SHOWS...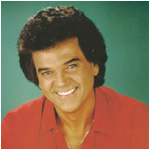 CONWAY TWITTY
CONWAY TWITTY HAD OVER 50 NUMBER ONE HITS, MORE THAN ANYBODY ELSE IN MUSICAL HISTORY... HE WAS AN ACCOMPLISHED SONGWRITER AND WROTE A GREAT DEAL OF HIS OWN MATERIAL...LIKE A LOT OF OTHER COUNTRY ARTISTS HE STARTED OUT IN ROCK AND ROLL, AND HE WAS VERY GOOD AT IT, RUNNING UP A STRING OF HITS...
HE THEN SWITCHED OVER TO COUNTRY AND THE HITS KEPT ON COMMING...CONWAY AND ''LORETTA LYNN'' TEAMED UP FOR SEVERAL YEARS DOING DUETS AND WERE VERY SUCCESSFUL...CONWAY TWITTY WAS ONE OF THE MOST LOVED COUNTRY STARS OF ALL TIME...HE PASSED AWAY ON JUNE 5, 1993...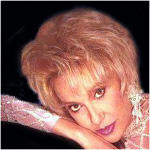 TAMMY WYNETTE
TAMMY HAD ALREADY BEEN MARRIED, DIVORCED AND HAD THREE KIDS BY THE TIME SHE WAS TWENTY YEARS OLD...SHE WAS WORKING IN A BEAUTY PARLOR JUST BEFORE RECORDING HER FIRST SONGS. SO SHE WAS ALREADY WELL AQUAINTED WITH HOW TOUGH LIFE COULD BE BEFORE SHE EVER MADE IT... WITH THE RELEASE OF "APARTMENT NUMBER 9" IN 1966 HER LIFE WAS TO CHANGE FOREVER...SHE WENT THROUGH A VERY STORMY MARRIAGE TO ''GEORGE JONES'',1969 TO 1975, WHICH ENDED IN DIVORCE...ALTHOUGH THE MARRIAGE WASN'T GOOD, THE DUETS THEY PERFORMED WERE GREAT...TAMMY PASSED AWAY ON APRIL 6,1998. SHE LEFT BEHIND A STRING OF AT LEAST 20 NUMBER ONE HITS...