THE LIFE AND TIMES OF
HANK WILLIAMS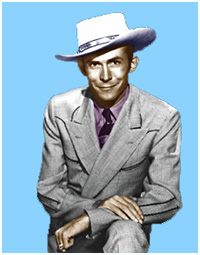 HANK WILLIAMS WAS BORN ON SEPTEMBER 17, 1923, NEAR ''GEORGIANA, ALABAMA''.. PROBABLY GETTING HIS FIRST TASTE OF MUSIC IN CHURCH AS A CHILD... HIS MOTHER BOUGHT HIM A GUITAR AT AN EARLY AGE AND HE BEGAN TO PLAY IT... HE RAN INTO AN OLD BLACK STREET MUSICIAN KNOWN AS ''TEE-TOT'' WHO INTRODUCED THE YOUNG HANK TO THE BLUES...
THIS STYLE OF MUSIC WOULD FLOAT TO THE SURFACE IN A GREAT MANY OF HIS RECORDINGS, GIVING HIM A UNIQUE SOUND THAT WAS UNHEARD OF AT THAT TIME...
AFTER WINNING A TALENT CONTEST, FORMING A BAND, AND LANDING HIS OWN RADIO SHOW, HANK HOOKED UP WITH ''FRED ROSE'' OF THE ''ACUFF-ROSE'' MUSIC PUBLISHING COMPANY...
ONE FAMOUS RUMOR HAS ''FRED ROSE'' NOT QUITE BELIEVING THAT HANK HAD WRITTEN THE MATERIAL THAT WAS PRESENTED BEFORE HIM, SENT HIM OFF TO THE SIDE WITH A STORY LINE TO WRITE A SONG TO AND GIVING HIM 30 MINUTES IN WHICH TO DO SO...HANK EMERGED 20 MINUTES LATER WITH ''MANSION ON THE HILL''... WHICH OF COURSE BECAME A HUGE HIT FOR HIM...
HANK SIGNED UP WITH ''STERLING RECORDS'' BUT WAS QUICKLY MOVED TO THE THEN NEW ''MGM'' LABEL... WITH ''FRED ROSE'' HANDLING THE SESSIONS THE HITS BEGAN TO COME...
HANK HAD THE REPUTATION OF BEING A BADASS AND A DRUNK... HE HAD BEEN A BOOZER SINCE HE WAS A KID... THIS KEPT HIM OFF ''THE GRAND OLE OPRY''... HOWEVER, WITH THE SMASH SUCCESS OF ''LOVESICK BLUES'', ''THE OPRY'' RELENTED AND HE APPEARED ON ''JUNE 11, 1949''...
TO SAY THAT THIS APPEARANCE WAS A SUCCESS WOULD BE A GROSS UNDERSTATEMENT... HE SANG ''LOVESICK BLUES'' AND THE CROWD WENT WILD, DEMANDING ENCORE AFTER ENCORE... HE WAS ALLOWED TO LEAVE THE STAGE ONLY AFTER ''RED FOLEY'' HAD CALMED THE AUDIENCE DOWN...
HE WAS CRANKING OUT THE HITS AND TOURING, BUT THE BOTTLE WAS STARTING TO TAKE OVER HIS LIFE... THE FACT THAT HE WAS ALSO TAKING PAIN KILLERS FOR A BAD BACK DIDN'T HELP MATTERS ANY.. HE WOULD TURN UP LATE FOR SHOWS AND FORGET THE LYRICS TO SONGS, THAT IS IF HE SHOWED UP AT ALL... HE WAS FIRED FROM ''THE OPRY'', WHICH WAS CONSIDERED A MAJOR DISGRACE...
SOON THE BOOKINGS STARTED TO DRY UP, DRIVING HIM DEEPER INTO DRUGS AND THE BOTTLE...
ON ''JANUARY 1, 1953''. HANK DIED IN THE BACK SEAT OF A CADILAC WHILE BEING DRIVEN TO A SHOW IN CANTON, OHIO...HE WAS A MERE 29 YEARS OLD...
HIS FUNERAL IN MONTGOMERY, ALABAMA WAS ATTENDED BY SOME TWENTY THOUSAND PEOPLE...
HIS SONGS RANGED THE ENTIRE SPECTRUM FROM THE DARK AND DEPRESSING ''I'M SO LONESOME I COULD CRY'' TO UP TEMPO AND CHEERFUL SONGS LIKE ''HEY, GOOD LOOKIN'' AND ''MOVE IT ON OVER''...
HIS OUTPUT WAS TOO NUMEROUS TO LIST HERE, BUT HERE ARE SOME OF OUR FAVORITES...
LOVESICK BLUES
MOVE IT ON OVER
MIND YOUR OWN BUSINESS
COLD, COLD HEART
MOANIN' THE BLUES
SETTIN' THE WOODS ON FIRE
YOUR CHEATIN' HEART
MY SON CALLS ANOTHER MAN DADDY
I SAW THE LIGHT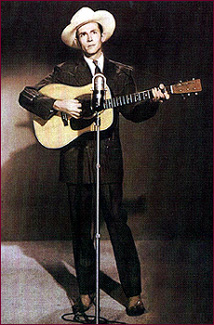 NOTE... I STARTED WRITING THIS PAGE AT 2:30 AM ON A VERY STRANGE AND QUIET SATURDAY NIGHT... IT WAS A LONG WEEKEND AND TORONTO WAS DESERTED WITH EVERYBODY OFF TO THEIR COTTAGES... THE BIG CITIES HAVE A BUZZ THAT IS ALMOST ALWAYS THERE, IT'S A REASSURING NOISE, BUT WHEN IT'S MISSING IT GIVES YOU A STRANGE FEELING... IT WAS NOT THERE AS I WROTE THIS PAGE... I WAS SUFFERING THROUGH A BAD COLD VIRUS AND WAS ALREADY FEELING WEIRD DUE TO LACK OF SLEEP AND SO ON... THE OCCASIONAL CAR PASSING BY ONLY ADDED TO THE EERIENESS OF THE NIGHT... THE LYRICS TO SOME OF HANK'S MORE MOURNFUL SONGS WERE DANCING AROUND IN MY HEAD, CAUSING A SADNESS TO COME OVER ME... I THINK I WAS PROBABLY MORE IN TUNE WITH HANK'S MUSIC AT THAT TIME THAN I'VE EVER BEEN, EVEN THOUGH I WASN'T PLAYING ANY MUSIC... IT WAS AS IF OLD HANK WAS SITTING BESIDE ME AS I WROTE... I DON'T THINK I COULD HAVE PICKED A BETTER TIME TO WRITE THIS PAGE...
PUNCHY...